As a residential Palo Alto landscaping specialist and landscape designer, Lisa creates a 'Conceptual Landscape Plan' for her clients which includes; hardscape (paths, patios, arbors, water feature, bbq kitchens, fireplace, pool, etc.), plants, and lighting. This complete and colorful plan provides each client with a clear idea of their own unique San Jose landscape design. Drought tolerant plants are encouraged, such as: California Natives, Australian, South African, Chilean, and Mediterranean plants. The plan is free hand drawn to 1/8 or 1/4 inch scale. All design work is a bid-able document. Lisa also refers her clients to reputable licensed landscape contractors to help complete their landscaping in San Jose.

Each prospective client is encouraged to prepare for the initial meeting by:

1)  Purchasing Sunset Western Garden Book  and

Sunset Western Landscaping Book.

2)  Taging  5 -10  photographs of desired gardens from Sunset Western Landscaping Book or books of your choice.

3)  Creating a list of plant likes and dislikes.

4)  Thinking about how you want your garden to function?

5)  Thinking about a budget.

6)  Calling references.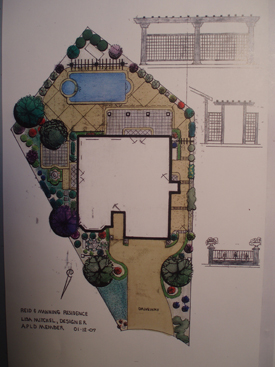 A Georgian French inspired Garden ...


Copyright 2011: Landscape Design & Associates.  San Jose Landscape Design. All rights reserved.

Palo Alto Landscaping Services
I look forward to working with you in completing your custom landscape design. Don't hesitate to contact Lisa if you have any questions or would like to start your landscape design today.

Ask about Phase II

Fees: There are two fee choices for clients.

1)  A flat fee rate starting at $800 and up depending on the size lot and complexity of the design. Client will receive a detailed drawing including thumb nail sketches if needed. It will take about two or three weeks to complete

2) An hourly rate of $75 per hour plus driving time. This fee is more suitable for smaller jobs. Example: simple designs, renovations, town houses, condos,  and consultations. This is an "onsite" design service. The client will provide a large table, chair for design purposes and good lighting. It may take any where from 3 to 8 hours to complete.